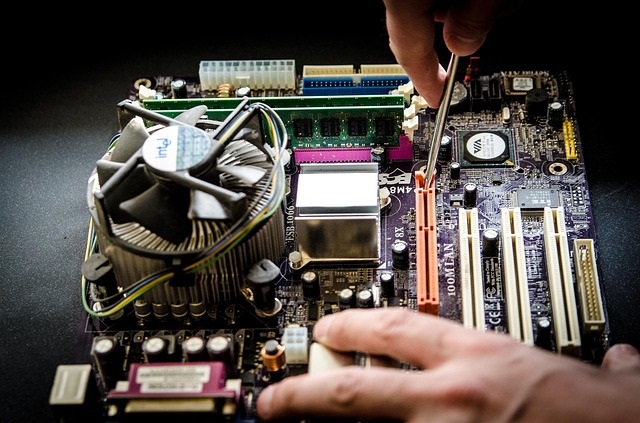 They want the "right to fix anything." They want to be able to repair, or have trusted technicians of their choice repair, any common object or electronic device, "from mobile phones to computers, watches to refrigerators, cars to tractors." Thousands have joined The Repair Association, an organization that is campaigning to change the US law that prevents people from doing so. In fact, in the United States the issue of the "right to repair" poses a serious problem. For some time, many big brands – such as Apple, Volkswagen, or Sun Microsystem – have waged a fierce battle aimed at destroying the repair market. According to producers, the only repairs permitted must be carried out by authorized technicians using original spare parts. These companies have the Digital Millennium Copyright Act (DMCA), a US Copyright Law promulgated in 1998, firmly on their side.
This war between manufacturers and repairers in the United States has dragged on for many years. In 1956, IBM was accused of creating a monopoly and was forced to open the market for spare parts by the Federal Trade Commission. More recently, Kodak attracted the unwelcome attention of the regulatory body, which similarly forced the company to allow repairs to its devices. In contrast, in 2012, mobile phone manufacturers pulled off a major coup when a federal law passed making it illegal to unlock smartphones. Yet, after a fierce battle led by the Repair Association, the law was repealed in 2014. The control of the repairs market by large manufacturers is a problem not only for the 3 million people who work in the field, but also for ordinary consumers who are obliged to buy official spare parts. Manufacturing companies dictate the price of these parts, often making them unnecessarily expensive, or, in the case of spares that have been taken off the market, impossible to find.
Until a few years ago the problem of "illegal repairs" was limited to simple consumer electronics like computers, smartphones, and tablets. But with the massive spread of the Internet of Things and an ever increasing number of everyday devices that can receive and send information over digital networks, consumers face a completely new situation. Today we have refrigerators that can self-regulate their temperature and cars with automatic anti-smog filters (like the systems that Volkswagen rigged for years). The presence of digital components means that these everyday objects now also fall under the Digital Millennium Copyright Act, making it illegal to "circumvent a technological measure that prevents access to the protected work."
"This affects any object that contains a chip," says Gordon Gay Byrne, executive director of The Repair Association during our meeting at a restaurant in the small town of Paramus, New Jersey. "The manufacturers tend not to cooperate by refusing to supply spare parts or the instruction manual, which makes even DIY repairs impossible. Think of a refrigerator with digital parts: if you break the thermostat you can order the parts, and so far so good. The problem is that when you install the piece, the refrigerator asks for a password, which is obviously not written on the box. When you call the customer assistance service, they tell you that only authorized repairers can provide a password. And that is how they cheat you."
Far from the buzzing centers of power, Paramus is a provincial town with an orderly air: single-family houses surrounded by greenery and mono-volume cars are parked in their driveways, while a plaque at the entrance of the city boasts that the junior baseball team won the New Jersey Championship in 2012. It's not exactly the kind of place where you expect to meet a lobbyist. But Gordon Byrne isn't your run-of-the-mill lobbyist, with his friendly but determined air, short gray hair, and casual jeans. He is one of the founders of The Repair Association, whose battle began six years ago. "In 2010, Oracle bought Sun Microsystem, which at the time owned about 30% of the server market. And they started to prevent the use of non-original spare parts. It was clear that their aim was to destroy repair companies, but many were reluctant to complain because they worked with large companies and feared retaliation. I, on the other hand, worked freelance and so I was in a position to protest," says Gordon Byrne, who was then working with several companies that provided technical support for servers. "We tried to protest and went to Congress, which was when discovered that there were people from other sectors who had the same problem. That was when we decided to group together and found a non-profit organization. That was important, because we needed the right documents to start lobbying and promoting laws in favor of repairs."
Since 2013, The Repair Association has won a number of victories, obtaining seven partial exemptions to the DMCA thanks to which it is still possible to repair tractors or smartphones without breaking American law. The Repair Association has also obtained permission to modify (and therefore repair) the exhaust gas control software on cars, provided they do not exceed pollution limits. But while these are important achievements, they are not nearly enough considering that such law exemption requests can only be submitted every three years. "The problem is not the laws but the lack of laws, which gives manufacturers carte blanche," says Gordon Byrne. "At a federal level, nothing has changed. There have been some amendments, but there is not even a specific office that deals exclusively with this issue in the Department of Justice."
In the absence of a federal solution, The Repair Association is putting pressure on individual states to approve laws requiring producers to provide instruction manuals for repairs and allow the retail sale of single components. Most local governments tend to agree with the repairers' reasoning, making it increasingly difficult for producers to keep their current monopolies. A referendum in Massachusetts in 2012 on the right to repair cars, won with 86% of the vote, forcing automakers to provide instruction booklets and spare parts.
The Repair Association's lobby method is simple, says Gordon Byrne: "We meet a politician and ask: What do we have to do to pass a bill in your term? On the basis of the answer, we work out a strategy and try to raise enough money to hire a lobbyist, because it's very difficult to do anything without a lobbyist who works on your project full time. His or her job is not to corrupt people, but to be your eyes and ears. They communicate the deadlines and come up with a plan if the person charged with carrying out the law is not up to the task. The problem," Gordon Byrne adds, "is that hiring a lobbyist costs between 40 and 50 thousand dollars per state, to cover their salary and expenses to attend events. That's why we're present in four states, but only have lobbyists in two."
In recent years, the Repair Association has presented a number of bills – which are currently waiting to be heard – in the four states where it is represented: Nebraska, Massachusetts, Montana and New York. "We continue to make progress, but so far we've had the most success with Minnesota's Environment and Energy Committee." The committee passed the proposed law on the right to repair and it is now ready to be examined by the state parliament. If approved, Minnesota would be the first state in which the rights of both repairers and consumers are guaranteed by law.
There's still a long way to go with the remaining 49 states and the battle for a reform of the existing copyright laws is proving to be very difficult. Yet Gordon Gay Byrne is optimistic: "Our true victory is that people are beginning to get fed up. They have realized how unfair many manufacturers' tactics are, and how certain measures reduce their control over what they have purchased. When they realize that there are other ways of doing things," he smiles, "they get angry."
The article was originally published in the Italian Newspaper "Il Manifesto".
Research was made possible by the Transatlantic Media Fellowship Program.  
Please note that the views expressed by the author do not necessarily reflect those of the Heinrich Boell Foundation.