Report
After a summer spent learning about climate change in Germany and the US, Climate & Energy Intern Gavriela Reiter found that while both countries must confront the question of a phase-out of coal, they are having very different conversations.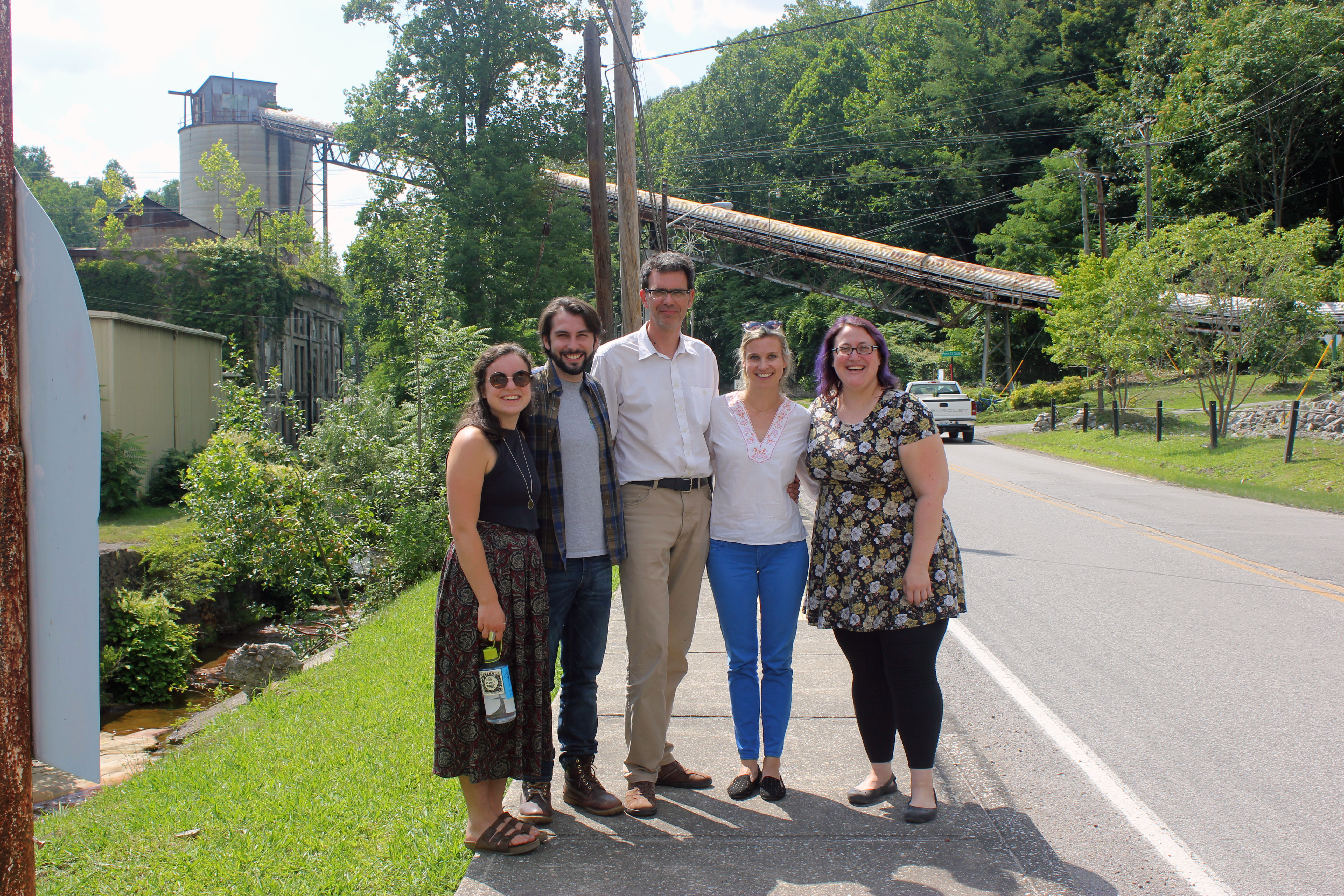 "I happen to love the coal miners," President Trump reminded the press on June 1, 2017, after withdrawing the United States from the Paris Climate Agreement. Coal, a fossil fuel that plays a role in both powering and polluting the world, is historically central to many communities, traditions, and cultures. Today, as we face a planet threatened by climate change, countries are addressing their carbon dioxide emissions reductions from different angles, as seen at each year's UN Framework Convention on Climate Change's Conference of the Parties.
Two countries that play large roles in influencing climate change mitigation strategy, while also managing communities with deep cultural connections to coal, are Germany and the United States. This summer, I attended two programs organized by the Heinrich Böll Foundation, the first "A Work in Progress: Energy Transition" conference held in Berlin, Germany and the second the "Engaging Coal Communities Tour", an exchange between German energy expert Timon Wehnert of the Wuppertal Institute and US coal community leaders in Kentucky, New York, and Pennsylvania. After time spent learning about climate change in Germany and the US, I learned that although both countries must confront the question of a phase-out of coal, they are having very different conversations.
"We've been hidden from the true cost of energy for a long time"
- a community member in Whitesburg, KY
There is a divergence in the discussions surrounding coal's place in the United States and Germany's energy mixes in the future.
In the United States, coal is on the downturn as a result of various events and market forces. According to Carbon Brief, coal has fallen from 55% of the United States' energy mix in 2005 to 33% today. The reduction is largely due to the 2012 natural gas boom in the United States which provided a cheaper alternative with lower carbon dioxide externalities, in addition to incentives for renewables through tax credits, nuclear energy subsidies, and a decline in China's coal demand. Carbon Brief also attributes the reduction in US coal use to a rise in wind production. As of 2017, coal power plants employ 16% more people in the United States than coal mines. However, many of these plants are either being replaced by or converted into gas-fired power plants due to the cheaper gas price. Fortune noted that in Chicago, the cost of coal generation is 50% higher than gas. In Texas, fifteen of the state's seventeen coal plants are losing money. Coal mining and burning are thus declining as viable energy options in the United States.
Meanwhile, Germany's Energiewende, or energy transition, has actively prepared the country to move towards constantly adding renewables into its energy mix. Through its Feed-in-Tariff system, Germany has been a leader in encouraging renewable energy projects since 2000, allowing for everyone from farmers, energy cooperatives to large corporations to invest in renewables and feed their produced energy into the grid. Due to the implementation of the Energiewende, the country currently runs on 33% renewable energy. However, the German energy transition is not over. Today, coal accounts for a similar 40% of the grid. At the Heinrich Böll Foundation's conference "A Work in Progress: The Transition to Renewable Energy" on June 28th, it was made clear that many societal actors must work together to address the infrastructural challenges that may lie ahead as Germany and the world aim to decentralize, decarbonize, and deconstruct present day infrastructure. The conference, while providing an update on Germany's Energiewende, also served as a collaborative plea to policymakers to focus more on the remaining energy sectors besides electricity, heating, and transportation. Throughout the conference, speakers questioned how and if Germany can be a role model in the G20, UN Climate Change efforts, and as pioneers into a low carbon future. Between questions, lectures, and perspectives, one thing rang true: the Energiewende, although in its 17th year, is a long way from over.
"I think a just transition is possible, we can make it happen… it takes a lot of work to shift that support into the policies that will make that happen"
-Eric Dixon, Appalachian Citizens' Law Center, Whitesburg, KY
Just as coal usage is different in each country, so is the political conversation surrounding its phase-out. While the United States' government is in denial of coal's downturn, Germany proactively works forward supporting renewables to play a central role in the energy mix.  Germany's new government potentially made up of a "Jamaica coalition" between the Christian Democratic, the libertarian Free Democratic, and the Green Party is expected to adopt a procedure for a phase-out of coal.
If coal is on the downturn, why is the conversation within the United States government not reflecting that reality? The short answer is that the fossil fuel industry is incredibly tied to the political system. The coal industry donated upwards of $223,000 to the Trump campaign, and Peabody (a bankrupt coal company) saw shares rise 50% in market value the day after the election. The influence of the coal industry can be seen in President Trump's announcement of the Paris Agreement Withdrawal, as well as through the current political attempts to support fossil fuels like coal and nuclear through adding additional subsidies and removing incentives for renewables.
Within Trump's cabinet, current Interim Chairman of the Federal Energy Regulatory Commission (FERC) Neil Chatterjee has proposed compensating coal generators to "recognize the value they provide to the system" – which means nothing less than subsidies for coal paid by taxpayers. President Trump himself has been clearing the way for extraction to occur on federal lands, resulting in New Mexico, California, various ranchers, and the Northern Cheyenne Tribe taking the Trump administration to court for stunting a moratorium created by previous Department of Interior Secretary Jewell to reduce such actions. Secretary Zinke, another politician heavily supported by the coal industry, has made delaying the moratorium an essential part of his career. From his time as a congressman from Montana leading letters in opposition to the rule to today as Secretary of Energy, he is close to succeeding in completely repealing the rule.
On a State level, we are also hearing a narrative of success for the future of coal. West Virginia Governor Jim Justice's recent public switch from the Democratic party to Trump's Republican party came with a proposal for the Department of Homeland Security to pay every eastern Appalachian coal fire plant $15 per ton burned, ultimately allocating federal money to keep coal-fired power plants afloat. Governor Justice has had various meetings with President Trump to discuss the plan. Although coal is declining in its economic viability in the United States, the general conversation and policy discourse suggests otherwise.
In contrast, in Germany the conversation around transitioning from coal is twofold: we must decarbonize and decentralize. There, the question of a coal phase-out is a question of not "if" but rather "when." Chancellor Merkel has so far pushed off determining a date for the complete phase-out of coal. But the new government is expected to establish a plan and date for a phase-out of coal. Choosing an end date allows the country to work actively toward ensuring job retraining and new placements for all people in the coal industry affected by the transition as well as work proactively to incorporate this energy change into the grid system.
That's where decentralization comes in. At the Energy Transition Conference in Berlin, Claudia Kemfert of the German Institute for Economic Research (DIW) stated that an energy transition does not solely mean a change in energy production away from fossil fuels but rather a change of the whole system through coupling and decentralization. Ultimately, Kemfert called for competitive innovation through energy transition optimization, which takes coal off the grid while decentralizing its energy source, mode, means, and distribution methods. Megan Richards, Director of Energy at the European Commission, agreed, stating that decentralization and redistribution are key to the future. Agora Energiewende, the leading think-tank on energy transition in Germany, proposed ⅓ solar and ⅔ wind for future energy supply, calling once again for decentralization of energy sources and distribution methods. Oliver Krischer, vice-chairperson of the Green Party's parliamentary group, echoed these sentiments, stating that there should be a coupling of sectors in order to broaden the supply of renewables. In Germany, the debate focuses on proactive steps to ensure that a shift from coal can happen within an effective time frame.
"The system in place in Germany allows for a just transition because these questions are exactly altogether what their social programs are posed to address."
- Representative of the Western New York Area Labor Federation in Buffalo, NY
For labor unions in the United States and Germany, questions of a coal phase-out intersect with other social policies. In both countries, as coal is removed from the system, communities must strive for a just transition, which includes "[rebuilding] after losing a major job provider and polluter" such as coal mine or power plant.
Just transitions in the United States must involve collaboration between local community groups, unions, industry, and public officials. On the Engaging Coal Communities Tour, we visited the community of Tonawanda, located outside of Buffalo, New York, which is in the process of a successful just transition. In Tonawanda, unions and local environmental advocacy groups came together after recognizing that the local Huntley coal-fired power plant, one of the last five remaining coal-fired power plants in the state of New York, would be slated for removal in the next few years. Forming a "blue-green" alliance, the local AFL-CIO and Clean Air Coalition worked together with public officials and the plant operators to ensure that the closure of the plant would come along with a plan to keep the surrounding town and former employees afloat – Grist reported about the Huntley Alliance.
When sitting down with union leaders in Buffalo and discussing just transitions in the United States versus in Germany, a few things became clear. First, due to the United States' lack of a strong social safety net, union involvement in just transitions is essential, both during the initial acknowledgment of an end to coal as well as in representing workers as that end draws near. However, a second theme rang clear. In the US, in part due to the nature of our political system, long-term planning for the future is often not a priority. One union leader lamented that 20-year-plans really just "kick the trash down the road," since new administration comes in after 8 years and often changes most of the existing policy. Another obstacle is that over half of the states in the US are "right to work" states, meaning that joining a union is not required and legally discouraged, which ultimately places greater power in industry. How can the US plan for the long-term with a President who promises to bring back coal mining jobs while simultaneously defunding reclamation initiatives and deregulating environmental policy? Unions, environmentalists, and public figures must work together in the United States to approach long-term questions in order to secure a just transition for coal communities.
Germany provides a different perspective on how unions can be adverse to rapid change, additionally providing a voice of caution in conversations surrounding just transitions. In Germany, unions acknowledge the need for a successful energy transition, yet they argue for a slower paced transition. One of the liveliest conversations at the conference in Berlin this summer was on the topic of the power revolution between Green Deputy Chairperson Oliver Krischer and Michael Vassiliadis, Chairman of the Union for the Mining, Chemical, and Energy Industries (IG BCE). Krischer, who grew up in a community depending on open field coal mining, stated the Green Party's position to take the 20 dirtiest coal plants off the grid in the next few years and to phase out coal completely by 2030. Vassiliadis disagreed, stating that because the life circle of a coal power plant is 40 years, Germany should look towards a "natural" phase-out of coal. However, Vassiliadis spoke towards energy transition, stating that the greatest disaster would be if Germany lost support for the Energiewende.
Claiming that the Climate Paris Agreement does not specifically necessitate a phase-out of coal and that climate change will not affect him or Germany immediately, Vassiliadis told the room that Germany's goals of keeping climate change to a maximum of 2-degree increase in temperature cannot be achieved by closing power plants, not specifying if he means Germany even needs to do more or take a different route altogether. He continued to argue to look towards an "energetic rehabilitation", again not specifying his goals. Vassiliadis believes that we must focus on innovation, grids, and storage rather than regulating the coal industry, especially because Germany's emissions only count for 0.35% of the global CO2 portfolio. The conversation showed that in Germany, which does have an active energy transition, there is disagreement by industry members as to what role the country should play in a global climate change mitigation context.
Conclusions
Germany and the United States are both large, economically significant countries that share legacies of industrial impact and similar current coal portfolios. However, attending the Energy Transition conference in Germany and participating in an exchange between US and German coal communities through the "Engaging Coal Communities Tour" taught me that the conversations surrounding the future of coal are taking different tones in each country. The very baseline of disparity stems from a different acceptance of climate change and a different perspective towards the future. The United States, faced with a President who denies climate change's very existence and takes campaign donations from the fossil fuel industry, is focusing on the very initial phases of a phase-out: acknowledging a problem. Meanwhile, Germany which has taken proactive steps to address climate change has come to a point in which it must address the best pathway forward for the eminent phase-out of coal. The difference between the political dialogue in the United States and Germany can be seen on a political view on questions of time, place, and role in global climate change.
The United States and Germany are countries that each see themselves as leaders in their regions and in the world, but are they leading on climate change? In the United States, the conversation revolves around the question of whether to revive a dead industry. Today, the US federal government and its citizens must look towards local people and governments stepping up to discuss the challenges of their communities and the impacts that the coal industry has locally. In Germany, the conversation acknowledges the need for withdrawal from coal usage but leaves a question of time and how. Today, Germans must look towards and push for strong political leadership to lead the designation of a phase-out date and the further growth of renewables in the country's energy portfolio. Globally, we must decide how to change our present and short-term conversations around coal to reflect the needs and risks of the future. We must acknowledge today's realities to commonly set a course for change and a sustainable future.
Gavriela Reiter
Gavriela is a current Masters student at the University of Pennsylvania studying Nonprofit Leadership.  She recently graduated from the University of Pennsylvania with a Bachelor of Arts in Earth Science, with minors in Urban Studies and International Development.  This past summer, Gavriela was our Climate, Energy, and Communications Intern, where she learned about international and local approaches to a just transition to renewable energy.   Gavriela is originally from New Haven, Connecticut and volunteers in the youth climate movement with SustainUS and the Sunrise Movement.