Transatlantic Media Fellowship
A new alliance of programmers, wealthy tech companies, and NGOs is forming to tackle global problems such as poverty, hunger, and climate change. But making a difference in people's real lives is not quite that simple.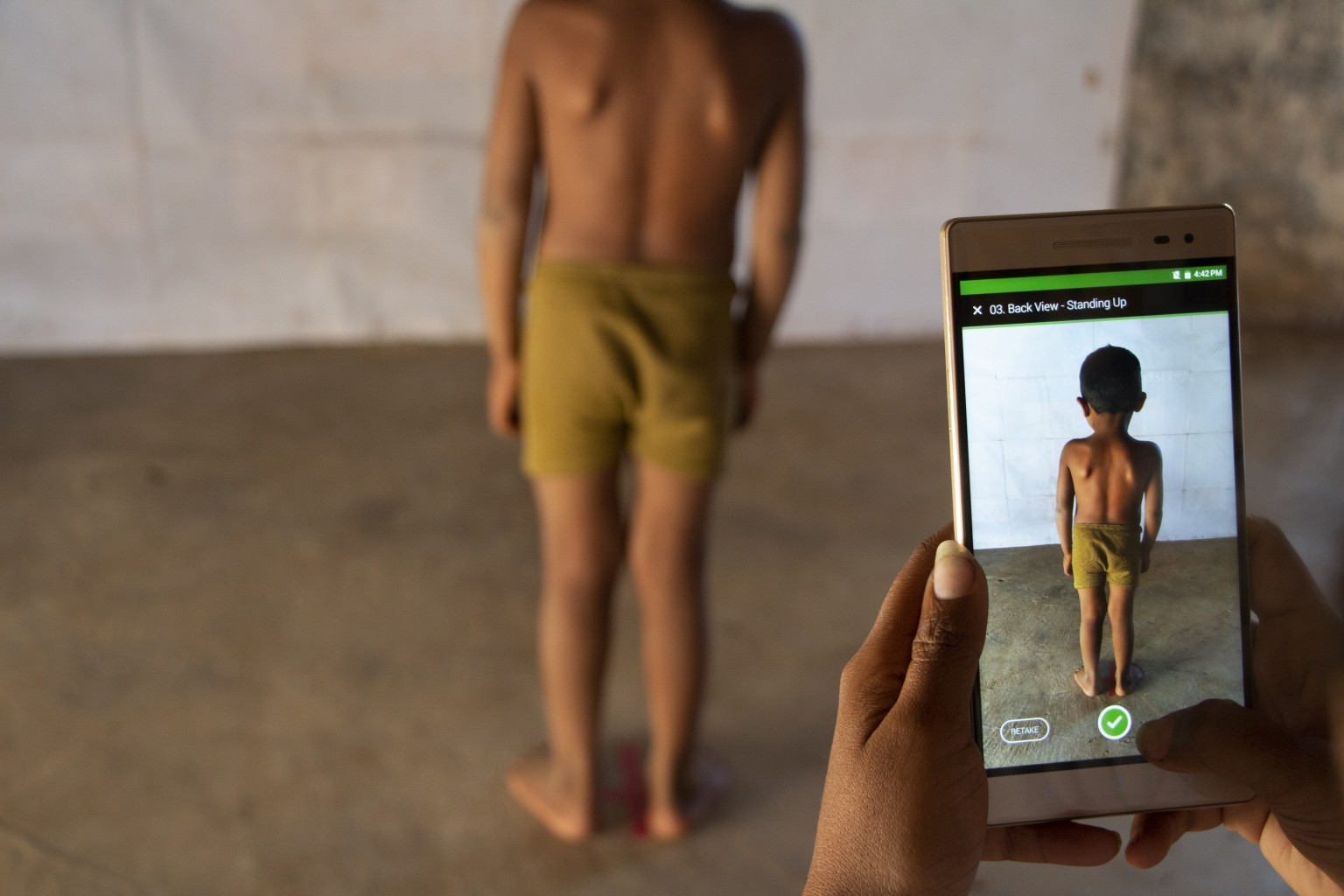 Ideally, the procedure takes only two minutes. Put the child on a scale, measure their height with a wooden yardstick, then quickly wrap a measuring tape around the child's arm to get its circumference. If the child stays still during the exam, it takes no time at all. But that hardly ever happens because children move, fidget, and run around, especially the little ones. It therefore usually takes at least ten minutes to collect their data. And then there are boys and girls who won't keep still at all. "You don't stand a chance with those," says Markus Matiaschek. "But often these kids are the most pressing cases."
47 million children suffer from emaciation, a sign of acute malnutrition. 144 million children are chronically undersupplied with protein, vitamins, iron, iodine, or other nutrients. German aid organization Welthungerhilfe recently published these figures along with a warning that the fight against hunger is not progressing fast enough. Climate change, droughts, and conflicts are hindering the food supply – with Covid-19 further exacerbating the situation. For months, it has been almost impossible to take children's measurements because it cannot be done in a socially distanced way.
Matiaschek, a programmer for Welthungerhilfe, has encountered malnourished children during his several trips to villages and slums in India. Right now, he is sitting in his sunlit office, which he rented in the "Cube", a hub for start-ups in Würzburg. Sporting a dark checkered shirt, designer stubble, and his hair tucked behind his ears, the 37-year-old explains how he approaches the problem: digitally, with a smartphone app called "Child Growth Monitor" that allows aid workers to measure children by simply scanning them from the front and back. Artificial intelligence will do the rest, calculate the children's height and weight as well as the circumference of their upper arm, and determine whether these values indicate healthy development or if help is needed. After almost three years of development, the app will be ready in a few weeks, says Matiaschek.
In the recent past, digitalization did not often seem to work for the benefit of society. Hate speech, right-wing networks, rigged elections, disinformation campaigns – wherever one looks, tech seems to bring out the worst in people, or to mainly serve purposes like optimizing online marketing and boosting consumption.
But more and more programmers, scientists, politicians, and young entrepreneurs have come to consider artificial intelligence, block chain, Big Data, and IoT as potential gamechangers for solving the world's problems. The World Economic Forum stated that the "technologies of the fourth industrial revolution" could have a "major impact" on ten of the 17 sustainability goals; 70 percent of the 169 sub-goals could be addressed directly. UN aid agencies such as Unicef or UNHCR are experimenting with AI; in Oxford, researchers are exploring how to design "AI for Social Good" projects; in Germany, the Federal Ministry of the Environment is promoting sustainable tech start-ups – and Silicon Valley companies are also getting involved, launching programs to support nonprofits and eco-social startups.
But what happens when coders and climate protection activists join forces? What if aid organizations apply machine learning to humanitarian problems and activists work with tech companies? Until recently, these were separate worlds.
In 2017, it became clear to Welthungerhilfe that it was impossible to meet the United Nations objective to eradicate hunger by 2030 by using traditional means such as wooden yardsticks and physical scales. The NGO therefore invited experts to join an "Innovation Factory" in Delhi. One of the participants was Markus Matiaschek, programmer since childhood, IT developer for EU authorities and ministries, and actually quite happy with his current consulting gig in Austria. But the challenge that malnutrition cannot be detected with the naked eye tickled his inventive spirit.
Within a single day, he drafted a rough concept. The children were to be measured with an infrared sensor and AI, making the experience faster and less stressful for the children. His idea convinced the donors, but the real work began after he won his 30,000-euro grant. How to capture the measurements of fidgety children with accuracy in the millimeter range? Following the first prototype, which he programmed alongside his day job, Telekom provided funding to hire an AI and app developer. A little later, aid workers in the villages and slums began collecting digital scans and take analog measurements for comparison to train the algorithm. A few months later, Matiaschek quit his job to join Welthungerhilfe full-time, made possible by a donation from Microsoft.
Microsoft, Google, and Amazon Web engage in development aid
Working with partners rather than going it alone: "That's our approach", says Antje Blohm, who is a fundraiser at the Bonn-based organization and in charge of corporate partnerships. When Welthungerhilfe plans and implements projects – in 2019, it was running 499 projects in 36 countries – it never acts alone, but works with ministries, the World Food Programme, and other aid organizations. Markus Matiaschek appreciates this collaboration across organizational boundaries: "In a commercial setting, that would be unthinkable."
Sometimes, though, the different cultures clash. In late 2018, Microsoft created a four-minute promotional video about the Child Growth Monitor that presented the company in a very flattering light and made it appear as if the app was already in use thanks to Microsoft technology. In reality, at that point the company had done little more than make a donation, nor was the product anywhere near ready to use.
But the partners have since moved beyond this hiccup. Microsoft has expanded its commitment, making its cloud platform Azure available for AI development, and is planning to also dedicate some of its own work force in the near future. But Nils Langemann, founder of Hamburg-based IT consultancy firm Phat Consulting, which supports the project, also says: "The partners first had to adjust to one another, because the corporate style is fast and aggressive, while the aid organization takes a more measured approach." Once they can find the right balance, he feels that the combination holds "great potential for all parties involved". Astrid Apperle, who is in charge of corporate social responsibility at Microsoft Germany, adds: "Of course we are keen to see a quick implementation. Yet we also know that such projects take time." Apperle adds that the Child Growth Monitor is currently part of the company's donation program and not a business case – but that the project has gained importance over time. "The highest management level in the United States is following its development."
"NGOs can leverage technology to work better and with greater precision. But they have to maintain a critical attitude."
Programmer Matiaschek considers cooperation a necessary "challenge". "We could do it alone. But Microsoft's computing power accelerates the process. I also believe we need a broad social movement to solve problems like malnutrition."
Microsoft's involvement is part of a larger plan. The company has been working to retroactively offset its past carbon footprint since its foundation in 1975 and to avoid future emissions. The competition is following suit. Intel is working with initiatives that harness artificial intelligence to stop illegal poachers and classify icebergs. Salesforce offers cloud capacities to foundations, NGOs, and educational institutions. Start-ups and organizations with social missions can apply for funding from Amazon Web Services. Google has made 25 million USD worth of grants available in the context of its "AI Impact Challenge".
When asked about the reason for such collaborations, the companies mention one main motivation: They want to "democratize" their technology so it won't be available only to private sector customers.
Anna Felländer, macroeconomist and founder of the Stockholm "Think and Do Tank" AI Sustainability, supports this sentiment. AI creates "business models on Speed", reducing costs, increasing efficiency, boosting revenues – and potentially also benefitting non-profit purposes: 134 of the 169 sub-goals of the Sustainable Development Goals (SDG) could be achieved more rapidly with AI, according to a literature study conducted by Felländer and other researchers. But the technology also has its downsides, she says – which is why companies must be held responsible for privacy breaches, discrimination, manipulation, and social exclusion.
With regard to the SDG, Felländer also fears that projects of greater public interest and sales potential are more likely to receive support than less profitable objectives. She also found that so far, most attention has been given to issues of direct relevance to AI researchers, who live predominantly in Western, wealthy countries. The needs of people in developing countries remain under the radar. Regarding cooperation between business and the public sector, she adds: "NGOs can use technology to work better and with greater precision. But they have to remain critical and question who makes the rules and who benefits: the company, the NGO, or the person in need, who ought to be the beneficiary? It's a question of mutual trust."
Two years ago, Google set out to explore what such partnerships might look like. The company called for applications for its AI Accelerator program. After the submission deadline, it even used an AI engine to analyze the 2,602 submissions from 119 countries. "We were positively surprised by the quantity and quality of the proposals," Brigitte Hoyer Gosselink, Head of Product Impact at Google.org, tells us from her home office in Oakland. "All 17 SDGs were covered." And not just by AI professionals. 55 percent of the nonprofits and 40 percent of the for-profit submissions stated that they had no prior experience with machine learning.
The 37-year-old and her team selected the winners with a primary focus on viability: AI was not actually the right solution for all of them; some lacked the necessary data sets; others failed to consider that their digital project must also work in the analog world. She then consulted both her own colleagues and external experts to determine the projects' social impact. Among the 20 winners are a project by NGO Médecins sans Frontières to help doctors in remote regions prescribe the right antibiotic for their patients and the initiative Rainforest Connection, which reprograms discarded smartphones to bug illegal logging activities. Gosselink: "The best ideas came from teams that are both technologically adept and possess socio-ecological know-how. But there aren't too many of those."
Welthungerhilfe is also still struggling with this double requirement. The organization is an almost 60-year-old behemoth, with strong credibility and a great reputation for reliability. Agility, however, is not one of its strong suits. Software sprints and iterative processes are not part of their normal routine. Instead, they are used to diligently following public procurement guidelines. Programmers learned this the hard way, says fundraiser Antje Blohm: Instead of quickly picking whichever service provider they deemed best, they first had to obtain and compare three different offers.
"For us, it's almost impossible to just try something and then find that it doesn't work."
Another unfamiliar territory is experimentation. The donations and taxpayers' funds that finance their aid programs – almost 250 million euros in 2019 – are no risk capital to be gambled with. Our guideline is that every euro must have the greatest possible impact and benefit the locals. "For us, it's almost impossible to just try something and then find that it doesn't work." That's why Antje Blohm is trying to convince supporters that they have to think differently. "Innovation entails possible failure," she says – but not every donor or institution is willing to subscribe to that idea. For the programmers, this more cautious approach means accepting salary cuts compared to the pay offered by large tech companies. "But on the other hand, their work has a greater impact, they enjoy greater job satisfaction, and they get the chance to go on more exciting business trips."
For Lynn Kaack, using her skills to optimize online ads was never an option. The 32-year-old from the Lübeck area completed her doctorate at the AI hub Carnegie Mellon in Pittsburgh. She is now conducting research in Zurich. Her mission: to combat climate change and win the support of the machine learning community. That's why she co-founded the organization Climate Change AI. A year ago, she co-authored an 80-page paper that explains how machine learning is making 13 industries and sectors more climate-friendly. Her work was supported by AI luminary Andrew Ng.
But, however great the potential, she does not consider this method to be a "silver bullet". "Technological progress is, of course, important for climate protection, but AI is no panacea. Many of us work in policy, we know where the key levers are." The connection between AI and climate is still a "niche topic", says Kaack, but one that is gaining increasing attention.
What if good software does evil things?
At recent AI conferences, she observed a steadily growing interest in Climate Change AI workshops. Employees are asking critical questions, she reports. "One commonly mentioned concern is that some companies that claim to be committed to climate protection are also selling their technologies to fossil energy providers to help them produce oil and gas more efficiently."
Should software be used for one purpose, but not for another? And if so: How do you determine the "right way" to use it?
Amazon has developed one of these controversial programs; Rekognition, an automatic facial recognition system. The Thorn Initiative uses it to detect trafficking and sexual abuse of children. The software recognizes photos and advertisements online, uncovering patterns that law enforcement officers could never detect by manual review. However, police authorities also use recognition software to profile protesters, which has drawn massive criticism in the US. For now, Amazon stopped selling its software to the police. "We need to make sure that we work with our customers and help them use our technologies appropriately," says Sri Elaprolu, manager at the "Machine Learning Solution Labs" of Amazon Web Services (AWS) in Washington D.C.
He does not believe in banning the technology. "Image recognition can help identify tens or hundreds of thousands of photographs. We stand by the fact that it offers many benefits to society. But you can't rely on it blindly. The final call must always be made by humans." According to Sri Elaprolu, social start-ups or nonprofits have to undergo a round of talks before AWS grants them any support. "You don't have to be an expert to use machine learning. Still, we first check our partners' level of know-how and the data situation."
Elaprolu stresses that even one-person start-ups can become AWS customers. Everyone is treated equally. The reality is, though, that founders of social start-ups and non-profit organizations need start-up aid from big tech companies more than others, because the big players are currently the only ones in a position to "democratize" their "platform as a service" model so non-profit programmers can also use it. There are hardly any alternatives. And what happens if Microsoft, Amazon, Google, and others lose interest – perhaps because a new management team pursues a different focus? So far, philanthropic activities are unlikely to be financially lucrative.
Clive Thompson, New York-based author of "Coders" and columnist for Wired, does not consider social commitment to be greenwashing. "Many employees are genuinely concerned, for example about climate change, and they really want to make a difference." But because companies have repeatedly dropped projects and taken products off the market in the past, he says, one should never get too comfortable. "There is always the risk of funding being cut."
"There is always the risk of funding being cut."
Thompson has another concern. Microsoft has announced its intention to build a "Planetary Computer" for research institutes, companies, start-ups, and administrations around the world to make environmental and climate data accessible. On the one hand, that is a good idea. The more information is bundled in one central location, the more insights can be gained. However: "I am concerned when a private company has data, access, and thus power over how general societal problems are to be solved." This task belongs with public authorities, but neither European nor US policymakers have recently shown any interest in in organizing and financing such a project.
When it comes to financing his project, Markus Matiaschek, inventor of the Child Growth Monitor, is optimistic. Other aid organizations, governments, and companies are already interested in the app – Welthungerhilfe is confident that it will recoup its investment. There are plans to create a "social enterprise". In the beginning, Matiaschek did all the programming himself, during weeknights and weekends. In the meantime, his team has grown to 14 members, and a total of more than 150 experts have contributed their machine learning knowledge. Even more will join in the future. "I consider it part of my mission to bring the tech scene closer to the issues that really matter." For if you achieve that, he believes, "good things will happen".
---
A German version of this article was first published in the print version of the magazine t3n (62). The author has published the interviews with Clive Thompson and Lynn Kaack as bonus material on his blog.