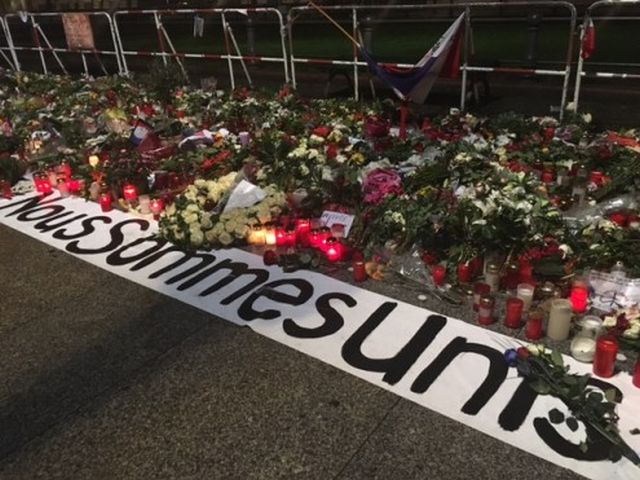 When I was in law school at the University of Colorado, I came across an opportunity to join a clinic where students and professors were working on real-life immigration cases. As the daughter of Colorado natives going back six generations, I understood the struggles for so many who were seeking asylum in a state and a nation that I was lucky enough to be born into. And today, as the majority leader in the Colorado House of Representatives, the experiences that I had in that law clinic still resonate with me.
I was assigned to work with an Ethiopian refugee who sought a grant of asylum. To this day, I still cringe when I remember his testimony. This man had been physically beaten, and as part of our evidence, he removed his shirt to show the judge the deep scares of the torture he endured. We won that case, our client was granted asylum in the U.S., and it left me with an even stronger feeling of how grateful I am to be an American.
This fall, I jumped at the opportunity to participate in a Transatlantic Migration Study Tour to Germany right before Thanksgiving, cosponsored by the Heinrich Boll Foundation-North America and the National Council of La Raza. Our group was made up of 10 Latino leaders with expertise in immigration law, and we were charged with meeting a variety of German leaders to strategize about the long-term integration of refugees and anti-discrimination efforts in their country. We met with government officials, refugee reception centers, and nonprofit organizations in Dusseldorf, Berlin, Leipzig, Halle, and Stuttgart.
Our German counterparts were interested in understanding how government and civil society promote the incorporation of newcomers into mainstream society in the U.S., known throughout the world as a "nation of immigrants." For our part, we wanted to understand how our European colleagues approach the challenges associated with integration to see what might be relevant to our work in the U.S. Our trip took place against a dramatic backdrop of events—the ongoing refugee crisis in Europe, the aftermath of the horrific terrorist attacks in Paris, and our own country's vigorous debate on Syrian refugees and immigration policies generally heightened the sense of our meeting's urgency.
Unbeknownst to me, my experience in Germany would be even more relevant than I originally thought. On the day I left, Governor Hickenlooper took a courageous position, proclaiming Colorado would welcome Syrian refugees while working with Homeland Security to ensure the national verification process is as stringent as possible. In a political landscape where governors and politicians throughout the country were racing to microphones to see who could reject these refugees the fastest, our governor stood up for public safety and rejected the politics of fear.
Germany is a nation of about 81 million people, and is prepared to accept at least 800,000 refugees this year alone. By comparison, the U.S., which has a population of over 321 million, has admitted an average of roughly 70,000 refugees annually in recent years, and President Obama's proposal to accept an additional 10,000 Syrian refugees that seek to flee ISIS has been met with a storm of controversy.
For any refugee that is admitted, there will be an intensive multi-year vetting process in collaboration with the State Department, the FBI's Terrorist Screening Center, the Department of Defense and the Department of Homeland Security complete with in-person interviews and collection of biometric information that are collected and matched against criminal databases. It is noteworthy that since September 11, 2001, the U.S. has admitted 750,000 refugees and not a single one has been arrested on domestic terrorism charges for planning an attack on America.
In Germany, I was struck by the coalition of conservatives led by Chancellor Angela Merkel and progressive leaders that are working together to support refugees in their fight for opportunity, and standing strong against the extremist and violent terrorists of ISIS. Germany's leaders are standing strong against ISIS by accepting refugees into their communities. It is unfortunate that in the U.S. we have yet to successfully build a similar right-left coalition to pass comprehensive immigration reform, including making any necessary changes to our system for processing political asylum seekers and refugees. But the German experience indicates such collaboration is possible.
In the wake of the San Bernadino tragedy, the time is now for people of all faiths and backgrounds to put their differences aside and focus on the true enemy: ISIS and radical extremism. The Republican Presidential front runner Donald Trump's proposal to bar all Muslims from entering the country is backward and scapegoats them when we should be focused on defeating ISIS.
It's time that we as a nation and as a global community stand up and mobilize against terrorists that have targeted and murdered innocent people across the globe and inspired such killings in the U.S. I agree with Pope Francis' recent remarks in Kenya that Christian-Muslim dialogue is essential for peace. Beyond religion, Republicans and Democrats must work together to assist individuals that demonstrably do not pose any risk to our nation, and who are fleeing from civil wars and sectarian strife at home. Being compassionate toward the victims of conflict while boldly confronting ISIS are not mutually exclusive goals: rather, they are part of a complete approach to tackling terrorism.
This opinion piece was published by The Denver Post on December 9, 2015.