Transatlantic Media Fellowship
Robotic doctors and coding camps for the homeless: Is the Californian way of fighting inequality a success story or just a pipe dream?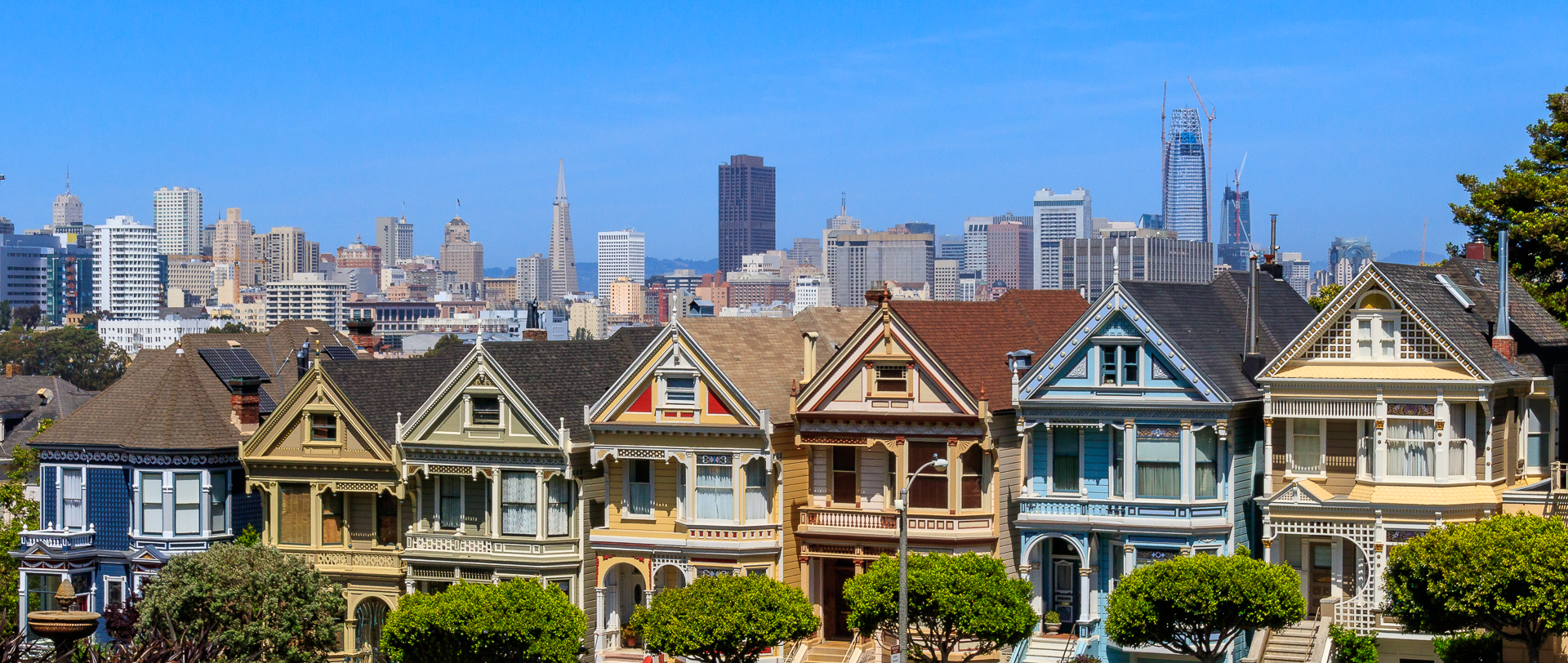 Del Seymour turned 40 before he ever tried drugs. He had previously fought in the Vietnam war and saved lives as a firefighter in Los Angeles. The search for something new eventually brought him to San Francisco. In the city of the Golden Gate Bridge, he became a drug addict in no time. "I arrived in the Tenderloin district 35 years ago, took one hit from a crack cocaine pipe and instantly became addicted. This decision cost me 18 years of my life."
He sits across me on the seats of a theater in the middle of Tenderloin, the most troubled area in the heart of San Francisco. Del Seymour wears a black hat and has tired eyes. He has just told a group of 30 students his life story. During the day, the theater hosts "Code Tenderloin," an organisation that provides free coding lessons to the homeless. Del Seymour founded it.
A few decades ago, the infamous residents of San Francisco were artists, hippies, and LGBT-activists. These days are long gone, at least since the turn of the century. Now two other groups dominate the public discourse: tech employees and homeless people. Two completely different worlds that shape the face of the city and impact each other. Can one world really help the other or is this merely wishful thinking with a pinch of marketing? 
Why the Homeless Learn to Code
Whoever fancies running into a billionaire on the street has the best chances in San Francisco. The city has the highest density of billionaires per capita in the world. Together with bordering Silicon Valley, it is home to many of the most powerful companies of the past century: Google, Facebook, Apple, Airbnb, Uber, Twitter. 
At the same time, San Francisco is fighting the biggest housing crisis of the country. Roughly 10,000 people were homeless last July. The rising rents due to the influx of rich tech-employees have worsened the situation within the past few years. In this relatively small city, both extremes are bound to collide. However sometimes San Francisco's bipolarity gives rise to promising projects. Code Tenderloin is one of them. 
Del Seymour has no clue about coding, but he is a charismatic speaker and a great networker. After getting clean, he decided to devote all of his energy to improving the living situation of the people of Tenderloin. "I have cost the district so many resources, destroyed many lives and sent many girls streetwalking. I just had to give something back," says Seymour. To finance his addiction, he worked as a dealer and a pimp. Seymour says he sees the girls on the streets almost every day. And again and again he wants to apologize anew. "They have all forgiven me, but I still can't walk past them without saying anything."
"According to new estimates by the Department of Health, the number of homeless people in the city is a high as 17,500: almost double as many as previously assumed."
His plan was simple: connect workers with job opportunities, in order to help people on the streets to help themselves. Last May alone, 10,000 jobs were created in San Francisco and Silicon Valley, mostly in the technology sector. To Seymour, it was instantly clear who he has to talk to: the tech companies. But he heard the same thing over and over again: "We can't hire you, because you can't code." "Then I said to myself: that's something I can take care of." He tells this story as if he had just come up with the idea. Seymour took care of finding sponsors and a location - he had lived above the theatre, in which courses take place - and found tech workers who would volunteer to teach the basics of programming.
Since its founding in 2015, hundreds of people have learned to code and finished work preparation training at Code Tenderloin. Most of these sessions span 6 seminar days per week - during the day in the theater or at night at the partner companies. For participants, the program is free. It is financed by big donors, the city administration and the big technology companies of the city, who are at least partly responsible for the housing crisis, and could definitely use some positive publicity.
And learning to code catches on among the homeless. Often with smaller, and sometimes with bigger success stories. 
 
Single Parent and Homeless for 8 Years
Elizabeth Bobadillo was a victim of domestic abuse several times and as a result, fell into homelessness. For 8 years, she had no fixed home for herself and her two daughters, when an acquaintance told her about Code Tenderloin. She finished the 6 week foundational program Code Ramp. She didn't want to continue programming afterwards, but the course had other positive effects on her. "The most important thing though was: I gained back my self-confidence." Her 15-year old daughter Charlotte also finished a coding course for teenagers. She learned how to program a website with Javascript, CSS and HTML. Charlotte says she never would have thought that she could learn to build such a thing herself. She had three hours of voluntary class for six weeks during the summer break, and has only missed the course once - for the funeral of a friend.  
A while ago, the small family found an apartment just around the corner from the theater—partly thanks to the help of Code Tenderloin. Seymour gave Elizabeth a job as a receptionist for Code Tenderloin and Charlotte is happy that she can finally find the quietness to study. In the homeless shelter it was too noisy to concentrate. 
In fact, the homeless shelters of San Francisco are massively overcrowded. In October, the waiting list for a spot had 1078 people. 
The lack of housing in the city that is home to so many billionaires has taken grotesque shape in recent years. Building new houses is expensive and barely possible - the city is surrounded by water on three sides. And the greed for profit rages even more recklessly in the U.S. than in Europe. Social housing just isn't profitable enough for investors. Since several tech companies have moved to the heart of the city, whose affluent employees are able and willing to pay much higher rents, the situation has become more severe. A one bedroom apartment runs for as much as $3,700 per month. 
Both worlds couldn't be further apart. And since solving the big problem seems far fetched, many solutions begin with small approaches. 
How Showers on Wheels from San Francisco Conquer the Whole Country
The project Lava Mae wants to provide basic hygiene to the homeless. In 2013, the founder Doniece Sandoval began to transform public transport buses to mobile showers and toilets. Homeless people took over 75,000 hot showers thanks to Lava Mae already.
One of them is PJ. She is 26 years old and would rather keep her name to herself. She carries a small dog in her arms and waits for one of the shower cabins to free up. Here in the Mission District in the Center of San Francisco, the shower wagon with  three shower cabins is parked every Saturday morning. PJ lives in a homeless shelter nearby. There, even though dinner, beds, and blankets are provided, showers are not. "I use Lava Mae several times a week in different locations. They also provide clean socks and underwear with the shower. That helps me a lot," she tells me. 
Due to its success Lava Mae has also started an operation in Los Angeles. The founder has also shared her experience and created a blueprint for similar initiatives in Texas and Florida.
Robo-Docs to Fight the Lack of Doctors
Helping people seems to be the common denominator that binds social projects and tech companies in San Francisco. An example for a technological solution that could help people in the future is Gyant. The app connects medical treatment with artificial intelligence. In the long run, founders want to counteract the global lack of medical workers. "We realised that a big part of any doctor's appointment is always the same, and hence can be automated." says Stefan Behrens. He is one of the two German founders. They have settled for San Francisco because of the abundance of great tech know-how and the proximity to possible investors - like so many others. 
"There are way too few doctors in the world, and this problem will only become more severe in the future.", explains Behrens.Unlike Code Tenderloin and Lava Mae, Gyant is not a social but a for-profit company. However, one can imagine that especially in a country without universal healthcare, the cost for medical consultations can be drastically reduced. 
The app asks the user 15-20 questions. The first few such as age, sex and symptoms are always the same. The following questions will be more individual, depending on the patient's answers. So far, 5 million diagnoses have been fed into the system that artificial intelligence can build upon - much more than any dentist could read within a lifetime. Of course, consultations cannot be held entirely without a doctor. After a short summary and analysis of the responses, the patient will be connected to a real doctor through a chat, who will ask some follow-up questions and finally present a diagnosis. 
According to Behrens, this form of automation is not only about reducing the demand for labor. The goal is to support doctors with artificial intelligence, so that they have more time for more complex issues, and also to generally provide basic consultancies during a shortage of personnel. "In developing countries, it is often generally difficult to find a doctor. In Kenya, there are up to 20.000 patients per doctor. In Germany, it is only about 800 or 900. Hence we have to find ways to bridge this shortage." In the German market, Gyant is more focused on quick help. During holidays or the weekend, patients could seek medical advice right from their couch. 
So far, the app is mostly used by clinics internally. However, the big goal of Gyant is to facilitate easier access to medical advice for a larger number of people. And who knows? Even homeless people in San Francisco could profit from the app in the future. Almost anyone has a smartphone here.
The Pivotal Question: Taxes or Philanthropy?
Technology is not only a blessing for the people in San Francisco. Numerous jobs and innovation on one hand stand in contrast with expulsion and skyrocketing living cost on the other. Countless articles mourn the loss of San Francisco's soul due to the tech boom. The city of the "Summer of Love" hippie movement has for a long time been a center of creativity, and a refuge for the politically and socially differently minded.
Artists against Techies? Del Seymour of Code Tenderloin doesn't believe in this narrative. "I don't blame the tech community. Actually, it is not even a community. It's just people trying to earn money." It is generally difficult in San Francisco to find people who would publicly attack the tech giants. No one is particularly eager to discuss the pivotal question of taxes. Somehow, the companies have managed to make billions in profits while barely paying any taxes. According to a recent analysis by Standard & Poors, traditional US-companies on average pay 27% of their profits in taxes. Facebook on the other hand, between 2007 and 2015 merely paid 3.8% in taxes. This is usually justified with the millions these companies invest in philanthropic causes like Project Tenderloin. 
The cities fear losing the jobs these companies provide to other locations. Most of the companies only rent their office buildings. If tax hikes were passed, companies could change their location virtually overnight. Governments and the people have in a way become susceptible to blackmail. 
Yes, a lot of good things have happened in San Francisco. Technology creates new opportunities, as is the case with Code Tenderloin. Social Enterprises such as Lava Mae need the help of philanthropy to provide support for the weakest members of society. And companies with apps that help people, such as Gyant, couldn't work without Silicon Valley's know-how. Each particular solution seems reasonable, and lacking alternatives. 
For me personally, one of the most formative moments of my research was an event about the situation of the homeless in a hip cafe that regularly hosts discussions on community issues. About 200 well-dressed men came together, discussing solutions and speaking emphatically about the situation of the homeless. The homeless however didn't sit inside the cafe, but outside the door in front of it - the event had a $10 entry fee. The saying "money rules the world" has for me never been more true and painful as in the few square kilometres of the bay area around the Golden Gate Bridge. 
Philanthropy helps the people in need. But many projects wouldn't even be necessary if more tax payments by rich companies would finance education, healthcare and social housing. The US-American author Anand Giridharadas has found a metaphor that provides food for thought: "Billionaires are like Bruce Wayne, causing societal problems through their companies by day — then wearing Batman costumes to solve them philanthropically by night."
This article originally appeared in Perspective Daily on January 15th, 2020. Translated by Felix Dengg. 
The views in this article do not necessarily represent the views of the Heinrich-Böll-Stiftung Washington, DC.