Media Fellowship
A Polish town home to just 200 people has taken in around 100 Ukrainians fleeing Russia's invasion of their country, providing a haven for those escaping the attack by a violent, oppressive regime.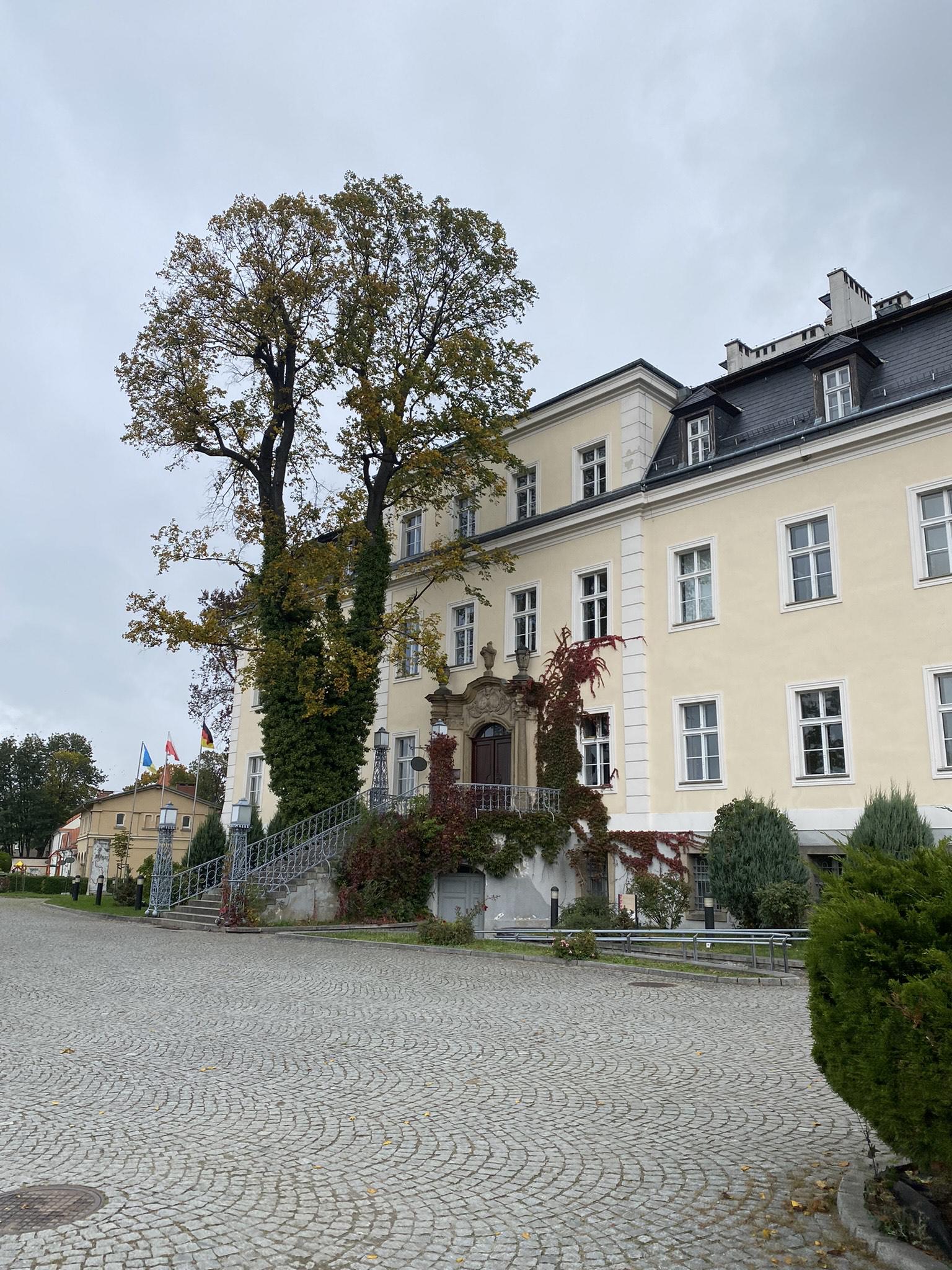 KRZYŻOWA, Poland—A small Polish village that took in refugees fleeing the Red Army's advances during the final months of World War II is now providing shelter to Ukrainians escaping Russia's attack on their country.
On a quiet, overcast day in the village of Krzyżowa, the history that unfolded in this tiny corner of southwestern Poland isn't immediately apparent. Green lawns unfold in front of pale-yellow baroque buildings. Three flags, Ukrainian, Polish, and German, blow quietly in the wind. The town is silent except for church bells, and there are few pedestrians on the roads.
But at the height of World War II, the village was a secret meeting spot for Germany's anti-Nazi resistance. Helmuth James von Moltke, a lawyer and descendant of a Prussian field marshal, founded an anti-Nazi resistance group that met secretly on the land near his family's estate, known as Krzyżowa's "palace." In 1945, the Nazis executed von Moltke in Berlin. But the regime he fought fell shortly after that, and people fleeing the violence in the east passed through Krzyżowa, becoming part of its history. As the war came to an end, the region where von Moltke's family estate still lies was incorporated into what is today Poland's Lower Silesia region.
Over 40 years later, as Krzyżowa lay in ruins due to the Polish communist government's neglect, it once again became the site of a significant historical event. German Chancellor Helmut Kohl traveled to the town near the German border to meet Tadeusz Mazowiecki, Poland's first prime minister after the fall of communism. The two men embraced, officially beginning a new era of post-war Polish-German reconciliation. A large chunk of the Berlin Wall is now propped up in the town center, a symbol of its connection to Germany and the region's complex history.
Today, Krzyżowa has once again stepped up to meet the moment. Home to just 200 inhabitants, the town has taken in around 100 Ukrainians fleeing Russia's invasion of their country, providing a haven for those escaping the attack by a violent, oppressive regime.
"Here in a small town, everyone knows the Ukrainians, and they are very welcomed and supported," said Anita Kończewska, a 52-year-old Polish woman working at the Krzyżowa Foundation, which organizes international youth exchanges in the village. "They feel safe here and are connected to the town. The bigger the city, the more anonymous you are."
When Russia launched a full-scale invasion of its smaller neighbor in February, the employees at the Krzyżowa Foundation got to work. The foundation had no experience helping refugees, but it had around 260 beds for organizing youth exchanges. They originally planned to take in around 20 refugees, but phone calls from people in need kept pouring in.
Before they knew it, there were over 100 refugees in the town. Women arrived with babies who were just weeks old. Emotions were running high. The foundation got to work sourcing the items refugees would need for a long-term stay, like dishwashers and laundry machines.
"In the beginning, they needed everything," Kończewska said. "People were in shock."
Meanwhile, residents of Krzyżowa had already started welcoming refugees into their homes without the foundation's help, adding to the number of new arrivals.
"The town was faster than us," said Anna Poznańska, a German woman who works at the foundation as a fundraiser. "When we took in the first Ukrainians, there were already Ukrainians in the town."
In the months since the start of the war, around half of the Ukrainians who originally arrived in Krzyżowa have stayed. Many live in a large building close to the original von Moltke family estate. The Krzyżowa Foundation has organized a Ukrainian kindergarten and summer camp for the children. They are planning workshops to help Polish teachers integrate Ukrainian children into the local schools.
Ania, a 38-year-old mother of two who asked to be identified by her first name only, didn't want to leave her home in eastern Kyiv when the fighting broke out in February. But after a week spent sleeping with her sons in the cellar of their home, she said she didn't have a choice. Her house wasn't far from the suburb of Bucha, which Russian troops later occupied, and the fighting was closing in around them. Her son is also hearing impaired, and the battery in his hearing aid stopped working. She knew she had to get him somewhere safe where she could buy a new battery.
"If he can't hear, he doesn't speak," said Ania, who fled to Poland with her two sons and her husband, who is also hearing impaired and was allowed to leave Ukraine despite martial law.
In Ukraine, Ania's husband worked with several Polish men who advised the family where to go. They have since settled in Krzyżowa, where they are building a new life day by day. Ania works in the town's only restaurant. Her sons, aged 14 and 8, are going to school. Ania's youngest son is making friends quickly and doesn't get picked on for wearing a hearing aid as he did in Ukraine.
"He says, 'Mom, no one asks what the hearing aid is,'" Ania said. "The people in the village are wonderful. One of the neighbors made a Polish soup for us because she knew my husband liked it, and I don't know how to make it. We have everything we need here. My kids feel safe."
Anna Kudarewska, a 48-year-old employee at the Krzyżowa Foundation, says her job has changed immensely since Ukrainians began arriving in the town. She and her teammates divvied up responsibilities, interviewing refugees to see what they needed and what the organization could offer. Refugees with kids began working with Kudarewska in the foundation's community garden. She took them on hikes around the nearby mountains.
"In the beginning, there was a lot of stress. Now everything is organized," she said.
Kudarewska was surprised by how quickly the Lower Silesia region began to accommodate the newly arrived Ukrainians. When she calls her insurance company or a doctor's office, they now give her the option to speak in Ukrainian. She sees Ukrainian families going about their daily lives when she goes to the parks or local playgrounds.
"They are integrating. I don't know if they are integrated, but they are doing the same things as us. They are participating in regular life," Kudarewska said. "You can see people working in different places. You hear the accent in shops and hotels. They learn Polish quickly."
The Krzyżowa Foundation is now preparing for a cold and brutal winter in Ukraine. As Russian President Vladimir Putin's army launches air raids against critical infrastructure, knocking out electricity and heating, the Polish population knows it's only a matter of time before more Ukrainians begin to arrive. Some worry that the generosity might start to wear thin. Others wonder how they will fund more support for refugees.
"We're thinking about scenarios. We are thinking about how many people we could take in, how to finance it," Poznańska said. "People understand that Ukraine is fighting for the freedom of Europe. If Ukraine falls, the next country will be Poland."
On a clear day in Krzyżowa, residents can see the hills peeking up from the German side of the border. Deer run through the fields, and tractors plod along the country roads. But despite the tranquil environment and the warm welcome, Ania says she would go back to Ukraine immediately if it weren't for her kids.
"We don't have a plan," she said. "But our home is there."
This article originally appeared in the National Journal on October 27, 2022. The views in this article do not necessarily represent the views of the Heinrich Böll Stiftung Washington, DC.